by John Spence
August 19th, 2006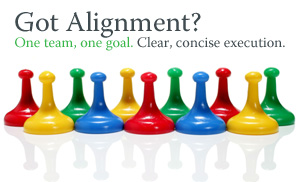 For the past year I have been asking the same question to every CEO I spend time with and to all of the participants of my various seminars and workshops: "What percentage of the time do you feel companies that know what they are supposed to be doing (have a solid strategic plan, clear goals, specific measurable outcomes) — actually do what they are supposed to be doing?" The answers I most often get are… 20% or less! That is absolutely shocking. It means that many companies are losing as much as 80% of their productivity (at staggering direct and indirect costs) simply because their employees do not effectively implement current plans.
See if this does not sound familiar: a group of key executives go offsite for the annual retreat where significant time, dollars and people are dedicated to building a comprehensive and strategically sound plan. The plan they develop is translated all the way down through strategic objectives into key roles and goals, which are then assigned to specific departments and individual people… never to be seen again. Everyone knows the plan is good. They know it is critical to the success of the company. They know that if they would implement even 50% of it that they would likely see incredibly positive results.
Yet time and time again they simply don't get it done. Why?
I know that some of this comes from shifts in the marketplace, unavoidable circumstances and truly necessary changes in the plan, but I can assure you from more than a decade of experience working with hundreds of companies worldwide, the vast majority of failures in execution are a direct result of failing to cross what many people call the "Knowing-Doing Gap." People know WHAT to do; they just don't know HOW to effectively get it done. To read more about why crossing the Knowing-Doing gap is important, click here.
In fact, experience after experience tells me this is one of the most serious and pressing issues facing business today. Research conducted by our firm shows that the impact of poor execution is costing companies incredible amounts of lost time, productivity and money (click here to take a free 7-item organization execution audit for your team). This has led our team to develop a number of tools and programs to help employees both identify and overcome the myriad of barriers that stand in the way of their ability to fully implement critical business initiatives. The first of these tools is the "C.A.C.E (sounds like 'cake') Assessment." We will now turn to a brief discussion of this organizational execution assessment method – and how it may help your organization increase its efficiency.
C = Clarity
Has a plan been clearly communicated to all key stakeholders in a consistent and easy to understand way? Are people truly clear on what they are supposed to be doing? Although most executives will argue that they have done a very good job communicating their vision, plans and goals; our experience is that managers and employees are often quite unclear about what they are supposed to be doing on a daily basis. Even after leaders report "talking this stuff into the ground," it is often surprising for many of them to learn how infrequently their goals and objectives make their way into the "to-do" lists of their managers and employees in clear ways.
A = Alignment
Are all of the various departments and people aligned for successful achievement of the plan, or are there situations where key goals are at odds? Are people told to do one thing, but rewarded for the opposite? Are there systems, processes and policies in place that are in direct conflict with achieving key goals? Does the plan call for bold risk-taking, yet the culture in the company is completely risk-averse? These are difficult and extremely complex issues, but always remember: the more alignment you have across individual, departmental, and organizational goals, the more purposeful execution you can expect. Without consistent alignment of organizational goals, there is little chance for successful implementation of any plan.
C = Consensus
Do people agree with the plan and are they committed to making the business plan… a business reality. Much like alignment, the more individual support you have within your organization for the implementation of plans, the higher the chances you have for consistent excellence within your organization. Without high levels of consensus, there is little hope that even the best ideas will be successful. And remember: consensus does not always need to mean 100% agreement with everything that happens within an organization, it simply means that a high percentage of your employees support your goals and believe that your goals are aligned with each other. The more consensus you have throughout your organization, the stronger your chances are for high levels of execution.
E = Execution
Once you have Clarity, Alignment and Consensus for organizational plans, the final – and most challenging – part of the process is to get to work on implementation of those plans. This takes us to the final area of focus in the CACE Assessment: Execution. So often leaders mistake execution with "motivation" ("my people don't execute – they must need motivation training"). We have actually found that motivation is only ONE PIECE of the execution puzzle. The other four-fifths of the puzzle are:
time perception for goal-pursuit
accessibility of materials needed for success
a certain amount of passion or enjoyment for the work
properly aligned social support – from leadership, management, and co-workers.
We call these five building blocks to personal (as opposed to organizational) execution enhancement "The Persistence Pyramid." Along with organizational CACE-boosting, training individuals in the Persistence Pyramid provides both a "top-down" and "bottom-up" approach to boosting Organizational Execution.
At our organization, we like to say that organizational excellence is a "piece of CACE" – if you know how to set yourself and others up for consistent success in this area. To begin the process of recovering lost time, productivity and money, click here to sign up for the CACE Assessment.
I'd like to leave you with a final thought and opportunity to learn about execution enhancement. Over the course of the past decade, I've heard many arguments against the possibility of higher levels of purposeful doing at an organizational level (and whether our system, called the Execution Boost Support System, can really be helpful) We've created an "Execution Boost point-counterpoint" chart to try to address this important debate.
» this article was written with Brian Higley & Brian Mistler
Article Filed under: I. WATER (Team/Group Excellence)